Earlier this year Google had announced a brand new feature called Google for Jobs. This feature allows Job publishers including companies (employers), job boards and recruitment agencies to display their jobs on the search engines in a more prominent way as long as they followed a certain set of guidelines.
The news got SEO Consultants around the world excited especially SEO Companies focusing on the Recruitment sector. Our SEO Company has been working with a few recruitment agencies in the office support and hospitality space. We have already done our groundwork as soon as the news came out and made our recommendations to our clients on how they can access this new feature. After all, it's about who can get on the search results the fastest!
After a month or so of announcing the new feature, Google has now confirmed that the feature is now rolled out and can be accessed by job publishers around the world. For now they have named the new feature as Google for Jobs.
Below is a screenshot of how a typical job listing will look on the search engines under the Google for Jobs feature,
Source- Google
How do you access the Google for Jobs Feature as a publisher?
If you own a website and have a dedicated section for jobs, you can activate or start using this feature by simply marking up your job posting data using structured data and submit a new sitemap in the Google search console with a date for each job listing.
If you don't own a website and use third-party websites or job boards to publish your jobs then you can access the feature as long as the website in question has enabled this feature on their website.
If you are new to the concept of structured data also known as schema markup, here is a quick introduction, schema markup is a code or a vocabulary of tags that sits behind a webpage and provides search engines information about the context of a webpage. Schema actually makes it easier for search engines to interpret the information about a webpage and thus provide intelligent content to the user.
Created as a joint effort by Microsoft, Google, Yahoo, Yandex and Schema.org, schema is an open community project that allows for developers from around the world to create a shared repository of schema vocabulary.
What information needs to be marked up in order to become eligible for Google for Jobs feature?
The typical information or guidelines for marking up information can be accessed on schema.org under the job posting category. The information provided on schema.org is exhaustive and you don't need to work on each element provided in this list in order to pass the Google test for structured data. Google recommends the following fields to be marked up in order to become eligible for this feature, @context, @type, base salary, date posted, job description, employment type, unique identifier of the organisation, job location, title and valid through.
Once all this information has been marked up for a particular listing you can run a test on Google Structured Data Testing Tool and make changes if required.
Here is a screenshot of one of our Recruitment clients who are yet to implement structured data on their job URL's completely,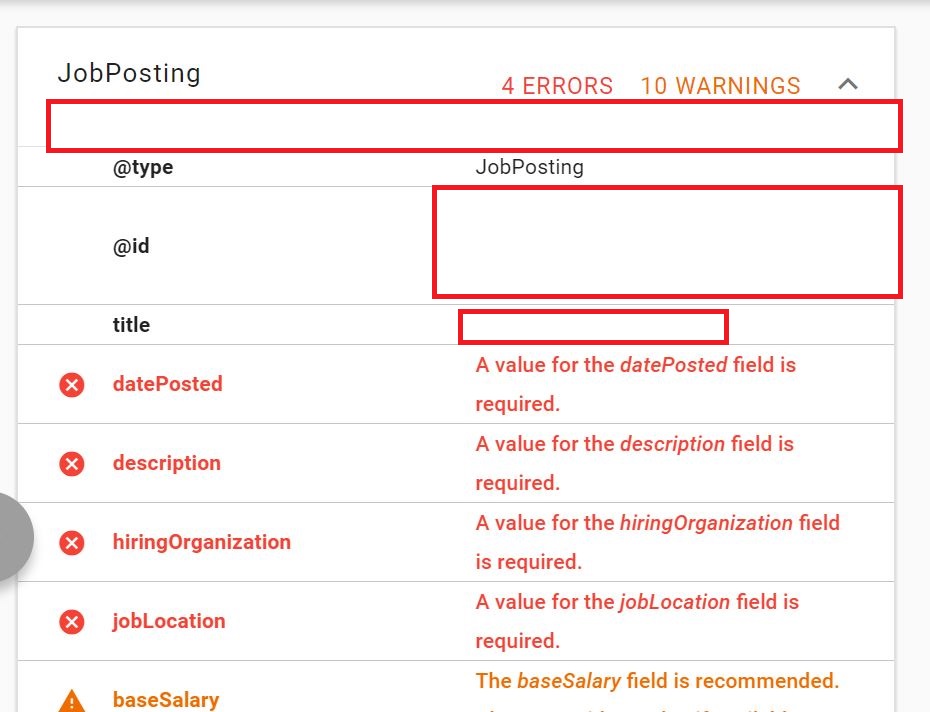 What are the benefits of using the Google for Jobs feature?
The feature allows job publishers to get,
A dedicated (more prominent) section on Google search results– Provides users detailed information about the advertiser, their ratings, logo and job details. This allows for better user-experience for the job seeker and could help the job publisher get a better click-through-rate and maybe even response for any given job listing.
Targeted or focused applications– The new feature allows job seekers to filter search results based on a number of criteria. This means that employers are more likely to receive job applications that match the jobs requirements
Higher Discovery Rate and Chances of Conversion– This section is likely to attract highly targeted traffic (job seekers) and improve the chances of a particular job being found and applied for.
Integration with Third-Party Publishers– The new feature can also be integrated with third-party publishers such as LinkedIn, Careerbuilder, Glassdoor, Zip Recruiter, Monster and many more similar platforms.
This is just the start and Google is looking to expand on this feature by adding more filters and provide a dedicated section in the Search Console to allow companies/publishers to track user activity levels for Google for Jobs specifically.