If you are a WordPress Developer or run a D.I.Y. website using WordPress, you must be well aware of the WordPress Plugin Directory. Each plugin on offer within the directory usually shows information such as Description Version, Active Installs, Last Updated, Tested Upto Version and User Ratings.
But have you ever wondered what the age of the WordPress plugin is? Well now you can thanks to a new online tool- WordPress Plugin Age. This tool has been created by Ahmad Awais and Maedah Batool, two well known names within the WordPress community.
In order to find age information regarding a plugin you will need to enter the plugin slug and hit the find button. Upon hitting the find button you will be provided the following information for any given plugin, Date Added to the WordPress Repository, An Exact Age Calculation for the Plugin, Download Count and a Call to Action button that allows users to download the plugin. The data point used by the creators of this plugin is the plugins submission date which is available on WordPress.org API.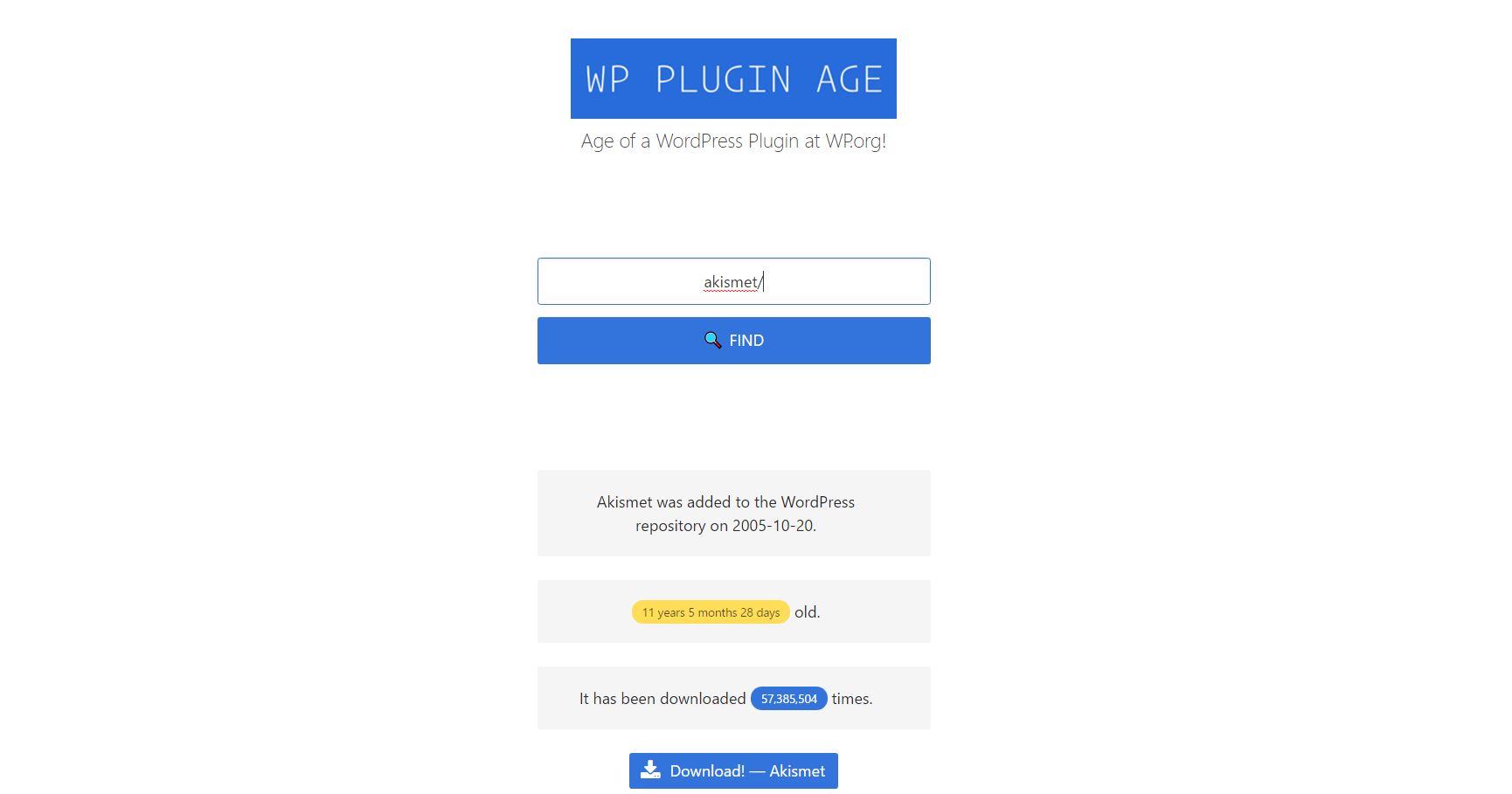 For people new to WordPress, a Slug is a customisable part of the URL that is often used for SEO purposes. It allows you to name a page as per your requirements as long as the custom permalinks are enabled.
The news about the online tool first broke on WP Tavern and since then the web interface design has completely changed.
According to our team of WordPress developers this is a very handy online tool that can be utilised in many different ways. It is important to consider the age (maturity) of a plugin in order to be sure about the overall stability of the plugin.
Areas for Improvement mentioned by our team of WordPress Developers- Allow the search to be conducted on the website using the complete URL of the plugin rather than just the slug. Slugs can be confusing for folks who are new to WordPress.
Source code to this online tool can be found on Github.