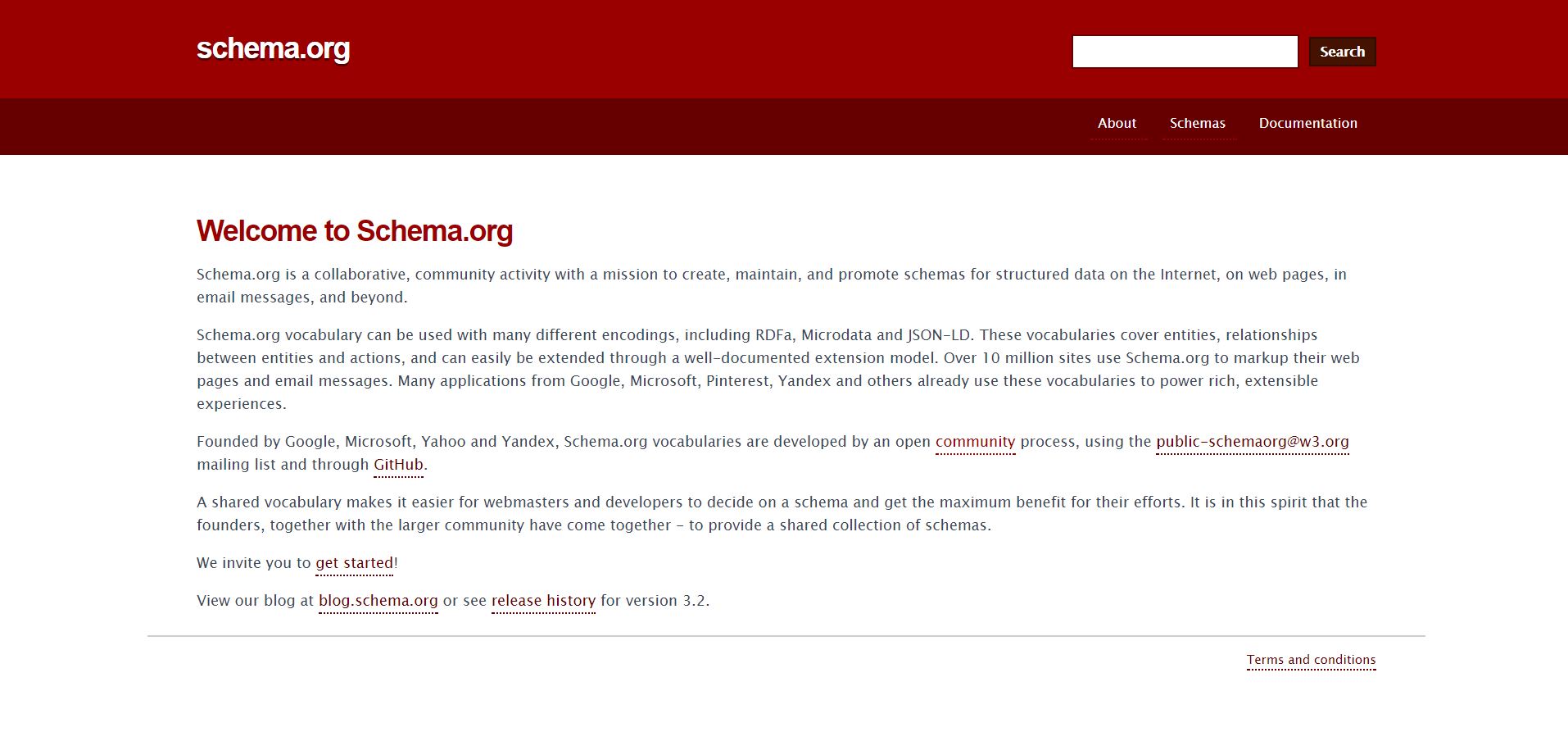 Schema Markup has become somewhat of a buzzword now days in the SEO sphere with seasoned SEO experts  predicting (Earlier this year) schema mark-up as one of the most important SEO strategies to implement for further improving SEO in the year 2017.
So what is Schema Markup?
Schema Markup is a code or a vocabulary of tags that sits behind a webpage and provides search engines information about the context of a webpage. Schema actually makes it easier for search engines to interpret the information about a webpage and thus provide intelligent content to the user.
Created as a joint effort by Microsoft, Google, Yahoo, Yandex and Schema.org, schema is an open community project that allows for developers from around the world to create a shared repository of schema vocabulary.
Types of Schema
Currently there are 589 Types of Schemas and some of popular ones include;
Aggregate Ratings
Articles
Blog Posts
Local Business
Movies
Organisation
Services
Products
Webpage
Software
Book Reviews
Recipes
Implementing Schema on your WordPress Website using a Ready Plugin
Choosing a Plugin
There are a number of WordPress Plugins both paid and free available that allow you to add mark-up your existing web-pages without any coding knowledge whatsoever.
The first consideration while choosing a plugin should be if it supports the mark-up type that you are after. Like we pointed above, there are currently 589 schema mark-up types so it is best you know exactly what mark-up type suits your requirements the best. Of course it is important to take other factors into consideration as well, such as active installs, star ratings, last update date and support level provided. If you are not too familiar with WordPress then please ask your WordPress Developer to activate schema mark-up's for you.
Popular Plugin Options
All in One Schema.org Rich Snippets
Schema
WP SEO Structured Data Schema
Markup (JSON-LD) structured in schema.org
In the guide below we will use WP SEO Structured Data Schema plugin because it allows us to create schema mark-ups for services. Some of the other mark-ups we will be using in or example here will include, local business, organisation, aggregate ratings and blog posts. So let's get started!
Step- 1
Click on the plugins tab on the left navigation menu of your WordPress dashboard and then click on Add New on the top left.
Step- 2
On the next screen use the Search Plugin functionality and find the following plugin WP SEO Structured Data Schema.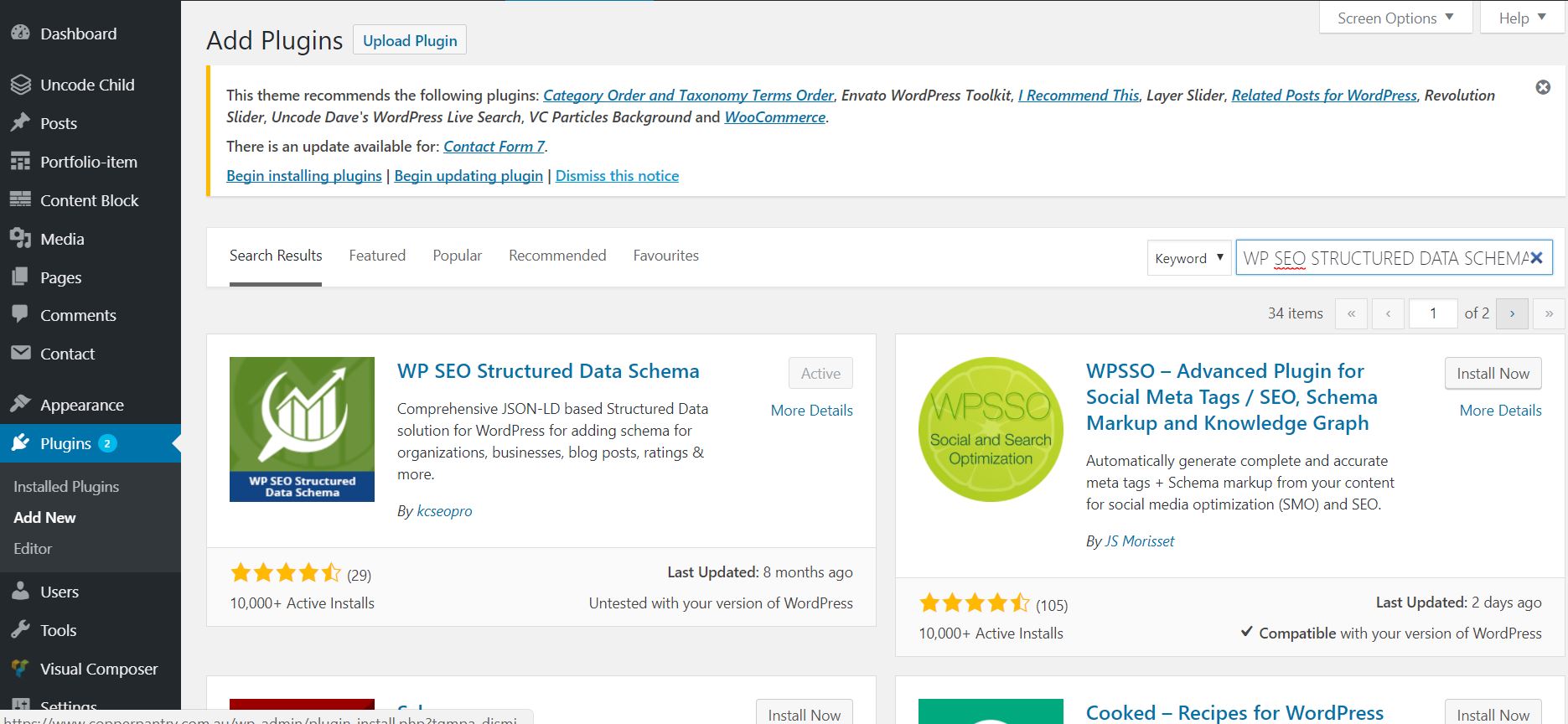 Step- 3
Install the plugin and activate it. Once the plugin is activated, you will see the following section appear on pages and posts.
Step- 4
To get started we will first take care of the general settings of the plugin, this will ensure that the local business schema is setup properly. On the left navigational menu in the WordPress dashboard, click on WP SEO Schema and the following page will appear. Simply fill up all the information on this page and your local business schema should be taken care of. We will also show you how to test your schema in Step 8 below.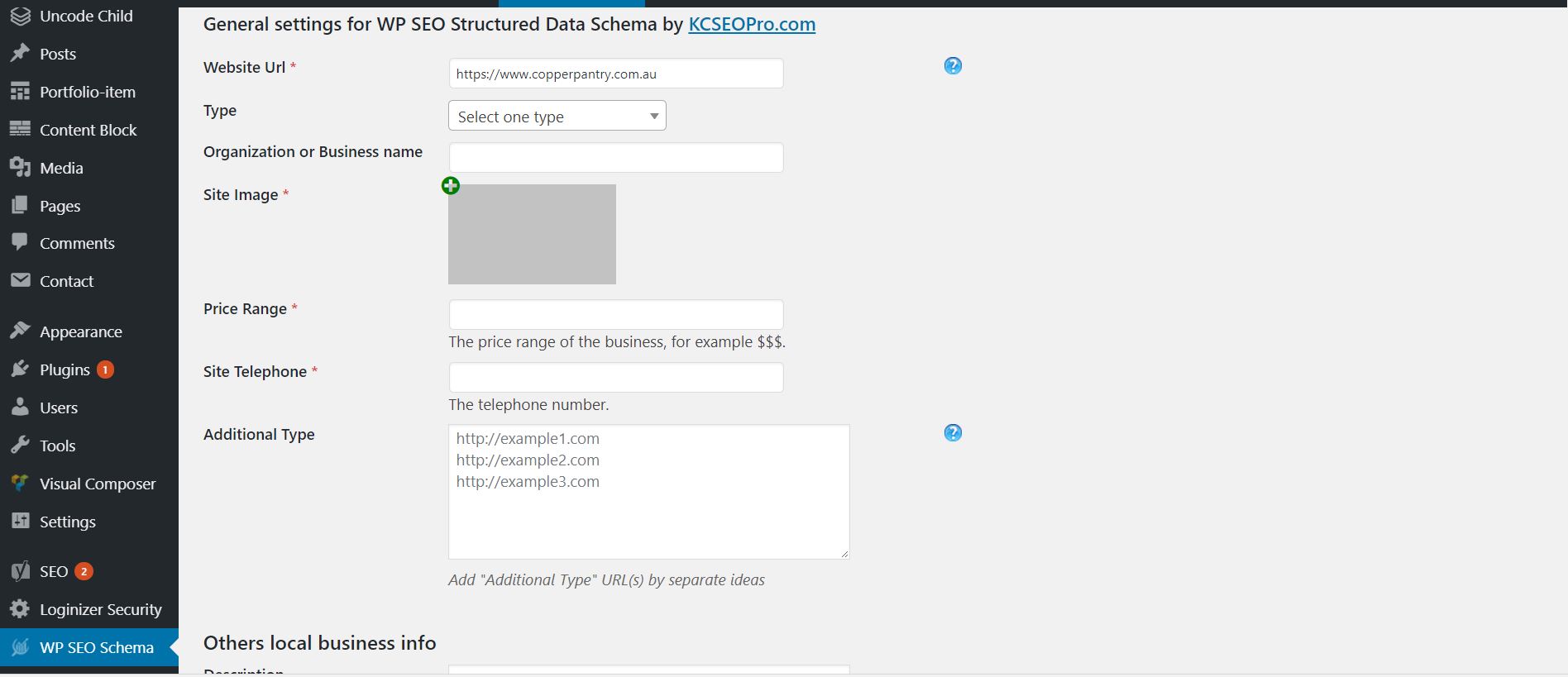 Step- 5
Now to activate the schema for each of the services you provide. It is important that have a page on your website dedicated to each of the services that you provide. In the example below we have picked up the page we have on our website for SEO Services.
Simply go to the page on your website for which you need to enable schema mark-up and then select Service tab and hit enable. Once you have done this you need to simply fill the information as shown below. (Note- Please tick the enable checkbox prior to filling the form or you will lose the information that you fill in the form). Once the form is filled please hit the update button.
Step- 6
Once you have finished adding the service schema you can now click on the aggregate ratings tab and complete the information in order to activate the ratings schema on your search engine listing (See snapshot 2 below). For the rating values we have used data from our Google My Business reviews. After finishing the aggregate ratings form, please hit the update button once again. . (Note- Please tick the enable checkbox prior to filling the form or you will lose the information that you fill in the form).

Step- 7
Now go on any blog post for which you will like to activate schema mark-up and simply complete the form below under the Blog Posting tab. It is recommended that you complete the schema form for each of the blogs that you have already published on your website and continue to do so for any future blog posts.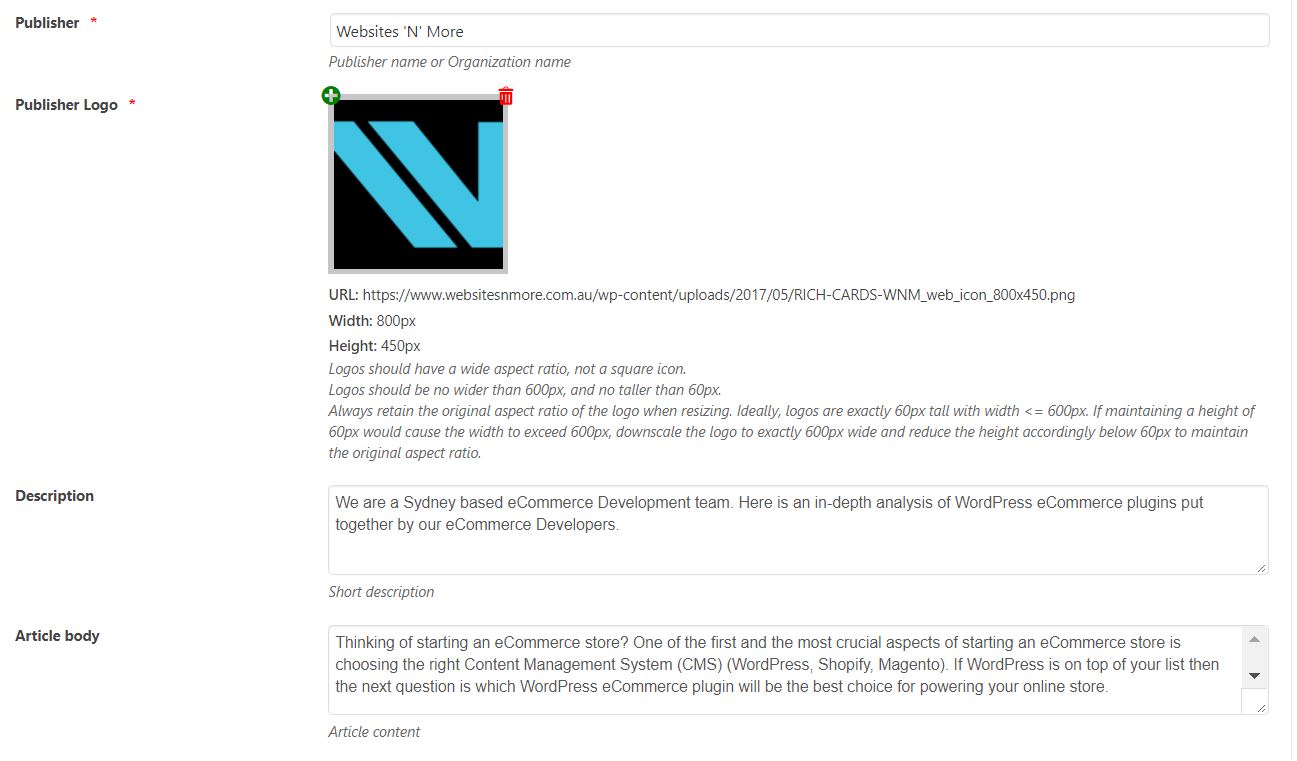 Step- 8
We will now test the schema mark-ups that we have just activated and see if everything has been setup correctly. We can use the Google Structured Data Testing Tool to carry out the test.
Enter the URL you would like to test in the dialogue box below and hit Run Test.
If all goes well then you should see the following screen with no errors or warnings.
We tested another URL with the following results,
There are 3 types of schemas detected on the above page- Organization, Local Business and Service. The warning shown on the local business schema is for the price range not being available. While this is a recommended field, it is not necessary that you have to enter values.
That's it following these simple steps you can enable schema mark-up for your website. If you are not too comfortable doing this on your own you can ask your web developer or SEO consultant to complete this task for you.