If you happen to live in Newtown, Sydney then you are no stranger to the "it's like a Jungle sometimes" mural that has been gracing the street walls of Newtown at the corner of Bailey Street and Enmore road painted over a heritage listed building. I have been personally seeing this mural for 10 years now, having lived and now operating my digital agency from this alternative, vibrant and sometimes referred to as a weird suburb in Sydney. Like many Newtowners (and very few could or would disagree) this mural resonated well with many and on many levels.
On Sunday morning 3rd of September, 2017 it was reported on Newtown community's Facebook page that this strong standing mural is being replaced by something new. Something new was something very commercial, an advertisement from an upcoming flick of Jennifer Lawrence, Mother. While some were happy to accept this change, others could not stand the fact that an iconic mural was being replaced by a mural with a commercial aspect to it.

To show their discontent, the mural had already been tagged within 24 hours of being completed.

What next? The advertising agency behind this stunt comes into the limelight and there are talks of the mural being painted without any prior notice or compliance with the local council regulations. On September 5th 2017, Apparition Media, a Melbourne based advertising/PR agency comes forward and posts an apology on their Facebook page and notified the public that they have now come in contact with the original artist and will work closely with him over the coming weeks to restore the original piece of art.

Fast forward 3 days, 8th September 2017, the advertisement has vanished and now been replaced by a new message for a good cause, based on the wishes of the original artist. This is a charitable cause taken up by Lifeline Australia.

In all of this the reputation of the advertising agency has been tarnished. Apart from a backlash on Social media channels, people have even vented out their anger by leaving 1 Star reviews on company's Google profile.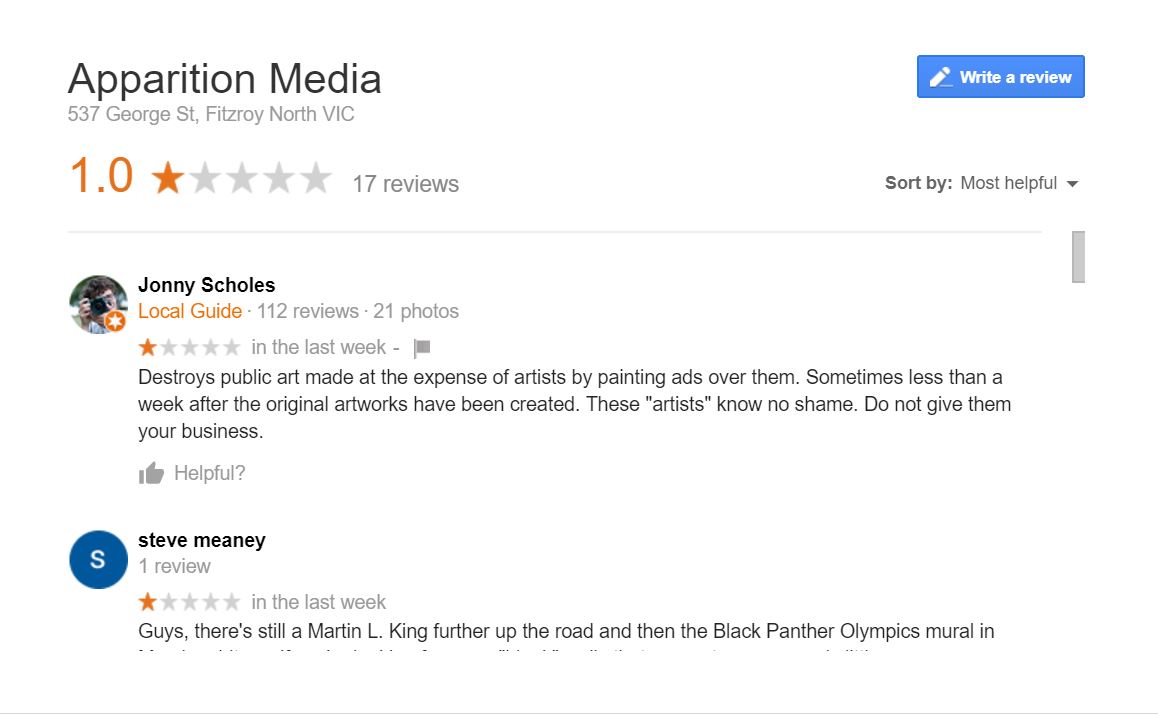 And in the last few hours the Director of the movie has also apologised for the stunt that was pulled off in Newtown.

A week that will be remembered for a long long time in Newtown.
For now I am back to business in FUNKY NEWTOWN!
Image source- Facebook, Newtowngraffitimap.com.